AUCTIONS
APPLIANCE REPAIR
Kelly Appliance & Vacuum 931-244-7200
AIR CONDITIONING
D.E. Hill & Son 762-9584
ASSISTED LIVING
AUTO REPAIR


J & G Tire Center 931-762-0078
BANKS
CONSIGNMENT
On Second Thought Consignment 931-244-7244
CINEMAS
CLINICS
Clothing
On Second Thought Consignment 931-244-7244
COMPUTER REPAIR
DAY SPA
Envy Tanning & Spa 931-762-3689

ELECTRICAL & PLUMBING
Rick's Electrical & Plumbing 931-242-5325
ELECTRONICS
Lynn Electronics 762-0401
EXCAVATING / GRADING
Newton Backhoe Service 931-242-0305
FLORIST

Lawrenceburg Florist 762-3722
McKelvey's Flowers 762-4511

FUNERAL HOMES

Pettus-Turnbo Funeral Home 762-3291
FURNITURE
Green's Furniture
Swap & Shop Center
GIFTS
GLASS REPAIR
Lawrenceburg Glass 766-1004
HARDWARE
HEALTH PRODUCTS
Salt Glow 931-279-4780
HOBBY
Adventure Off Road 852-5445
INSURANCE
Aarons Insurance 931-629-8065
Baker Agency 762-4550
Wall-Modrall Insurance 762-6528
JEWELRY
Dixon's Fine Jewelry 762-9979
LAWN CARE


Dustin's Lawn Care 242-4414
MEDICAL
NATURAL FOODSNature's Nuggests 762-2895
OUTDOOR
Randy's Cycle & ATV 762-2450
PARTY / SUPPLIES
PAWN
Mo's Pawn Shop 762-2529
PHARMACY
Holland's Pharmacy 931-762-2220
POOLS/ SUPPLIES
By Pass Pools 931-762-7904

REAL ESTATE
RENTAL
RESTAURANTS
SPORTING GOODS
Fox Sporting Goods 931-766-0313
STORAGE
Loretto Storage 931-853-7867

TANNING
Envy Tanning & Spa
931-762-3689
TIRES
Groucho's Tires 931-762-1707
TRAVEL
Thursday, October 12, 2017
Event offers answers to any veteran question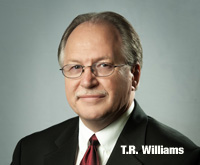 Lawrence County is home to 4800 veterans, a group that includes our youngest National Guardsmen and 28 veterans of World War II.
Because of that range of age and experience, they have a wide variety of concerns. Some are interested in education benefits and home loans. Others need information about pensions and nursing home expenses.
Next Wednesday, October 18, every agency, business, and organization that works with veterans in any way will be represented at a Veteran's Outreach event at Lawrenceburg's National Guard Armory. Hours are 9 a.m. to 3 p.m. so everyone can come at a time convenient to them.
"Whatever issues they have, someone will be there to talk to them about it," said Donnie Morris, who has served as Lawrence County Veterans Service Officer for three years.
Tennessee's first female Commissioner of Veteran Affairs, Many-Bears Grinder, is expected to attend, along with representatives from the Veterans Administration (VA). Local officials have been invited, and assistants to U.S. Senator Lamar Alexander and U.S. Representative Marsha Blackburn. Members of local veterans' organizations: American Legion Posts 63 and 146, Veterans of Foreign Wars (VFW) Post 1618, and DAV Chapter 20 will be on hand to discuss the benefits of membership.
Experts in specific areas of veteran health and care will be there to offer advice about suicide prevention, insurance, nursing homes, assisted living, rehabilitation, and hospice. Funerals, burial, and memorials can be planned as well.
Area bankers will be available to discuss loan programs. Veterans, their surviving children and spouses can learn about education benefits and area schools. Employment is another important topic, and some area businesses will be there to take applications.
Morris said a big crowd is expected. Most neighboring counties have only part-time Veterans Service staff, so veterans and their families are expected form Maury, Giles, Wayne and Lewis counties, and North Alabama.
Remember that staff at our Veterans Service Office can help with most issues at any time, but this event offers a one-stop-shop for veterans of all ages and their families.