AUCTIONS
APPLIANCE REPAIR
Kelly Appliance & Vacuum 931-244-7200
AIR CONDITIONING
D.E. Hill & Son 762-9584
ASSISTED LIVING
AUTO REPAIR


J & G Tire Center 931-762-0078
BANKS
CONSIGNMENT
On Second Thought Consignment 931-244-7244
CINEMAS
CLINICS
Clothing
On Second Thought Consignment 931-244-7244
COMPUTER REPAIR
DAY SPA
Envy Tanning & Spa 931-762-3689

ELECTRICAL & PLUMBING
Rick's Electrical & Plumbing 931-242-5325
ELECTRONICS
Lynn Electronics 762-0401
EXCAVATING / GRADING
Newton Backhoe Service 931-242-0305
FLORIST

Lawrenceburg Florist 762-3722
McKelvey's Flowers 762-4511

FUNERAL HOMES

Pettus-Turnbo Funeral Home 762-3291
FURNITURE
Green's Furniture
Swap & Shop Center
GIFTS
GLASS REPAIR
Lawrenceburg Glass 766-1004
HARDWARE
HEALTH PRODUCTS
Salt Glow 931-279-4780
HOBBY
INSURANCE
Aarons Insurance 931-629-8065
Baker Agency 762-4550
Wall-Modrall Insurance 762-6528
JEWELRY
Dixon's Fine Jewelry 762-9979
LAWN CARE


Dustin's Lawn Care 242-4414
MEDICAL
NATURAL FOODSNature's Nuggests 762-2895
OUTDOOR
Randy's Cycle & ATV 762-2450
PARTY / SUPPLIES
PAWN
Mo's Pawn Shop 762-2529
PHARMACY
Holland's Pharmacy 931-762-2220
POOLS/ SUPPLIES
By Pass Pools 931-762-7904

REAL ESTATE
RENTAL
RESTAURANTS
SPORTING GOODS
Fox Sporting Goods 931-766-0313


TANNING
Envy Tanning & Spa
931-762-3689
TIRES
Groucho's Tires 931-762-1707
TRAVEL
Wednesday, August 9, 2017
Celebrating the past and making memories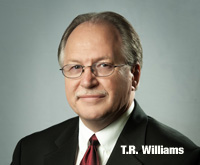 When planning began several months ago for Lawrence County's Bicentennial Festival, I knew it would be a great event. All the ingredients were there: vendors and music on the Square; a 50-year-old time capsule reveal; and a John Paul White concert at the Crockett Theatre.
A late addition to the schedule, however, changed it from an event celebrating our history to a historic event. Governor Bill Haslam came to present a very big check - for $4.6 million and measuring 2'x3' - for the higher education facility that will impact this county for generations to come.
Lawrence County and the City of Lawrenceburg are contributing $1.5 million each, and another $1.5 million will be raised from local businesses, organizations and individuals. Lawrence County has an outstanding record when it comes to supporting good causes, so I have no worries about the success of that upcoming campaign.
The site is a 50-acre parcel in the southwest corner of the intersection of Highway 43 South and the new Highway 64 bypass, which is being purchased from GrafTech International (formerly Union Carbide/UCAR). The property was chosen because of its high visibility from both highways, ease of access for future students, and the potential for retail and restaurant development nearby. Land surveys are underway at the site and architects have been told to move forward with building plans. The exact design hasn't been finalized, but I promise you will be proud of the results.
The idea for the building's use is unique. Columbia State will offer classes leading to Associate degrees, and other schools will offer the final two years' class requirements for Bachelor degrees. Tennessee Tech, whose main campus is in Cookeville, has been part of this plan from the beginning and were here on Saturday, along with administrators from Martin Methodist College. Middle Tennessee State University and the University of North Alabama have voiced interest in bringing classes here as well. Each school will offer different programs at our facility.
I want to thank State Representative Barry Doss for the hard work he continues to put into this project, and for the tenacity he's come to be known for on Capitol Hill. That trait also served Lawrence and other rural counties very well in his role as Chairman of the House Transportation Committee and efforts to pass the Governor's IMPROVE Act. That legislation will bring hundreds of thousands to our county for road maintenance and improvement.
The Governor's gift was the cherry on top of Saturday's events. As I said, all the other ingredients were there: vendors, sidewalk sales, food, live music, and a fantastic concert featuring John Paul White. Many thanks go to our Bicentennial Committee for a memorable day.
And speaking of memories, I want to share a special story related to the time capsule that was opened on Saturday. It was buried August 5, 1967 and included many items related to International Lions Club President Ed Lindsey, a local businessman and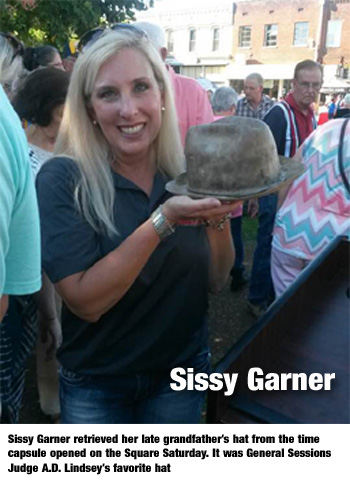 former Lawrenceburg Mayor.
One of his brothers, A.D., was General Sessions Judge here for many years, and was seated among the crowd that day. At the last moment, someone grabbed the straw hat he wore and threw it into the time capsule.
His ten-year-old granddaughter, Sissy Garner, heard the story twelve years later. "He had not gotten over it," she said, laughing. "He always wore a hat and that was his favorite.
He told me he had no intention of donating it, but somebody took it off his head. He said, 'I won't be around when they open that time capsule, but I want you to get my hat when they do.'"
Garner is living in Lawrenceburg now, but spent several years away. "I knew that wherever I lived I was coming back to get that hat." On Saturday, she did. It was on top of everything else, as expected, but like the rest had been damaged by water.
The straw is very brittle and the brim is ready to fall off, but the tag from local men's store Moore's is still plain. "It was surreal to be there, to see it after all these years," she said. From this point on, her grandfather's favorite hat will have a place of honor, in a (dry) glass case at her home.