AUCTIONS
APPLIANCE REPAIR
Kelly Appliance & Vacuum 931-244-7200
AIR CONDITIONING
D.E. Hill & Son 762-9584
ASSISTED LIVING
AUTO REPAIR


J & G Tire Center 931-762-0078
BANKS
CONSIGNMENT
On Second Thought Consignment 931-244-7244
CINEMAS
CLINICS
Clothing
On Second Thought Consignment 931-244-7244
COMPUTER REPAIR
DAY SPA
Envy Tanning & Spa 931-762-3689

ELECTRICAL & PLUMBING
Rick's Electrical & Plumbing 931-242-5325
ELECTRONICS
Lynn Electronics 762-0401
EXCAVATING / GRADING
Newton Backhoe Service 931-242-0305
FLORIST

Lawrenceburg Florist 762-3722
McKelvey's Flowers 762-4511

FUNERAL HOMES

Pettus-Turnbo Funeral Home 762-3291
FURNITURE
Green's Furniture
Swap & Shop Center
GIFTS
GLASS REPAIR
Lawrenceburg Glass 766-1004
HARDWARE
HEALTH PRODUCTS
Salt Glow 931-279-4780
HOBBY
INSURANCE
Aarons Insurance 931-629-8065
Baker Agency 762-4550
Wall-Modrall Insurance 762-6528
JEWELRY
Dixon's Fine Jewelry 762-9979
LAWN CARE


Dustin's Lawn Care 242-4414
MEDICAL
NATURAL FOODSNature's Nuggests 762-2895
OUTDOOR
Randy's Cycle & ATV 762-2450
PARTY / SUPPLIES
PAWN
Mo's Pawn Shop 762-2529
PHARMACY
Holland's Pharmacy 931-762-2220
POOLS/ SUPPLIES
By Pass Pools 931-762-7904

REAL ESTATE
RENTAL
RESTAURANTS
SPORTING GOODS
Fox Sporting Goods 931-766-0313


TANNING
Envy Tanning & Spa
931-762-3689
TIRES
Groucho's Tires 931-762-1707
TRAVEL
Wednesday, August 9, 2017
New College is a Historic Win For Lawrence County
By Chris D. Jackson, Chairman Pro-Tempore Lawrence County Commission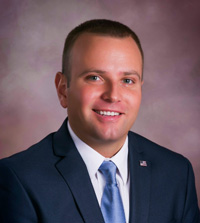 Saturday's announcement by Governor Halsam regarding funding for a new four-year college in Lawrence County represents a historic win for our county.
As the Governor announced, the State will be awarding $4.6 million to go towards the construction of the new higher education center (a partnership between Columbia State, MTSU, Tennessee Tech and TCAT) here in our county.
A few months back, the county commission and the Lawrenceburg City Council each voted to commit $1.5 million to the project, a move which showed state officials how deeply committed we all are to advancing and improving education in Lawrence County.
All in all, this project is a true partnership and a testament to the good things government can do when our officials put partisanship aside and work together towards the common good.
A college like this is not only a historic win in terms of education for our county, but also for our workforce and economic development. One issue we have faced for years in our county is a shortage of skilled labor or the kind of labor today's industries look for.
This college will help bridge that gap by providing students the skills that these industries desperately need. In turn, it will also provide graduating students with the kind of quality wages our county needs more of as these skilled positions often pay more than careers that stem from a typical four-year degree.
On the economic development front, colleges almost always invite and encourage new retail, restaurants, hotels and other establishments to invest in the area near the college.
That bolds well for our county and could mean more jobs for our people and additional tax revenue that we can reinvest into our community in important areas like local education, improving roads and job creation.
As the old saying goes, "Victory has a hundred fathers and defeat is an orphan." While many people played an important role in making this college a reality, it is important to point out the tireless leadership Representative Barry Doss provided on this issue.
At the start, many folks, including myself, thought this goal was out of reach for a community our size. However, through the hard work and persistence of Rep. Doss, state and local officials and many from the private sector, it happened and our community owes them all a debt of gratitude for their efforts.
All too often, we hear folks talking about how bad our county is on social media or at the local country store.
But as one citizen, I want to express how proud I am of our county and our people. Just in the past few years, we have taken our unemployment rate from 17.2% to below 5%.
We have a school system that is consistently ranked #1 in our region. Thanks to new state and local funding and our very capable Highway Superintendent Mr. Donnie Joe Brown, we have some of the best roads and bridges of any county our size. And in the next five years, we will have a new four-year university and new high schools in Loretto and Summertown.
Simply put, in our county's 200th year, we have momentum moving into the future.
By working together, being progressive and focusing on our next generation instead of the next election, our county is improving and moving forward at a historic rate. Let's keep our foot on the gas pedal and secure a better, more prosperous Lawrence County for ALL of our citizens!