AUCTIONS
APPLIANCE REPAIR
Kelly Appliance & Vacuum 931-244-7200
AIR CONDITIONING
D.E. Hill & Son 762-9584
ASSISTED LIVING
AUTO REPAIR


J & G Tire Center 931-762-0078
BANKS
CONSIGNMENT
On Second Thought Consignment 931-244-7244
CINEMAS
CLINICS
Clothing
On Second Thought Consignment 931-244-7244
COMPUTER REPAIR
DAY SPA
Envy Tanning & Spa 931-762-3689

ELECTRICAL & PLUMBING
Rick's Electrical & Plumbing 931-242-5325
ELECTRONICS
Lynn Electronics 762-0401
EXCAVATING / GRADING
Newton Backhoe Service 931-242-0305
FLORIST

Lawrenceburg Florist 762-3722
McKelvey's Flowers 762-4511

FUNERAL HOMES

Pettus-Turnbo Funeral Home 762-3291
FURNITURE
Green's Furniture
Swap & Shop Center
GIFTS
GLASS REPAIR
Lawrenceburg Glass 766-1004
HARDWARE
HEALTH PRODUCTS
Salt Glow 931-279-4780
HOBBY
INSURANCE
Aarons Insurance 931-629-8065
Baker Agency 762-4550
Wall-Modrall Insurance 762-6528
JEWELRY
Dixon's Fine Jewelry 762-9979
LAWN CARE


Dustin's Lawn Care 242-4414
MEDICAL
NATURAL FOODSNature's Nuggests 762-2895
OUTDOOR
Randy's Cycle & ATV 762-2450
PARTY / SUPPLIES
PAWN
Mo's Pawn Shop 762-2529
PHARMACY
Holland's Pharmacy 931-762-2220
POOLS/ SUPPLIES
By Pass Pools 931-762-7904

REAL ESTATE
RENTAL
RESTAURANTS
SPORTING GOODS
Fox Sporting Goods 931-766-0313


TANNING
Envy Tanning & Spa
931-762-3689
TIRES
Groucho's Tires 931-762-1707
TRAVEL
Wednesday, August 9, 2017
Career & Technical Educators of Lawrence County Schools spent two days in July touring local businesses and industries
Career & Technical Educators of Lawrence County Schools spent two days in July touring local businesses and industries in an effort to network and bring relevant information to students.
Several industries in Loretto opened their doors to CTE teachers. Those include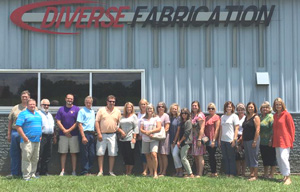 Southern Craft Manufacturing, Modular Resources, and Diverse Fabrication. The second day was spent with 3D Systems of Lawrenceburg as well as a tour of the Spec Building in Ethridge and an update from Ryan Egly of the Lawrence County Chamber of Commerce.
Some comments of the tours included "It was great to see the demographics and impact of CTE programs within our high schools on the future of business and community," "The tours opened my eyes of industry and jobs available in Lawrence County. I was impressed with the products that are produced at each facility.
Seeing these facilities made me aware of some skills that we as educators need to reinforce." CTE Director, Shannon Watson shares "Connecting our educators with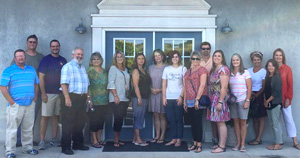 local business and industry representatives is a critical piece of educating our students and ensuring that we are preparing them with the skills needed for high skill high wage positions within our community."
Special thanks to Mars Hill Baptist Church for allowing the educators to use their church bus for the tours and to the businesses for the opportunity to connect with local partners.