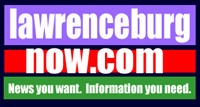 Tuesday, May 26, 2009
TBI Offers Reward For Fugitive Wanted In Maury County
Tuesday the Tennessee Bureau of Investigation added a man wanted by the Mt. Pleasant Police Department and the Maury County Sheriff's Office to its list of Top Ten Most Wanted fugitives in hopes that tips from the public will lead investigators to his whereabouts.
Java L. Blue, 28, last known address 711 N. Main Street, Mt. Pleasant, TN, is wanted for Attempted Aggravated Robbery, Aggravated Assault and Failure to Appear for Driving on a Suspended License. In the early morning hours of May 16, 200, Blue attempted to rob an individual at gunpoint. While the victim was trying to defend himself, Blue's gun discharged nearly striking the victim. Blue is also wanted out of Wisconsin for Parole Violation. He served several years in prison for Kidnapping and Armed Robbery in Oshkosh, WI.
Blue is a black male with brown eyes and black hair. He's approximately 5'7" and weighs 160 lbs. He has a tattoo on his right shoulder and is considered armed and dangerous. Anyone with information on the whereabouts of Java Blue should contact the TBI at 1-800-TBI-FIND. There is a $1000 reward for information leading to his arrest.