AUCTIONS
APPLIANCE REPAIR
Kelly Appliance & Vacuum 931-244-7200
AIR CONDITIONING
D.E. Hill & Son 762-9584
ASSISTED LIVING
AUTO REPAIR


J & G Tire Center 931-762-0078
BANKS
CONSIGNMENT
On Second Thought Consignment 931-244-7244
CINEMAS
CLINICS
Clothing
On Second Thought Consignment 931-244-7244
COMPUTER REPAIR
DAY SPA
Envy Tanning & Spa 931-762-3689

ELECTRICAL & PLUMBING
Rick's Electrical & Plumbing 931-242-5325
ELECTRONICS
Lynn Electronics 762-0401
EXCAVATING / GRADING
Newton Backhoe Service 931-242-0305
FLORIST

Lawrenceburg Florist 762-3722
McKelvey's Flowers 762-4511

FUNERAL HOMES

Pettus-Turnbo Funeral Home 762-3291
FURNITURE
Green's Furniture
Swap & Shop Center
GIFTS
GLASS REPAIR
Lawrenceburg Glass 766-1004
HARDWARE
HEALTH PRODUCTS
Salt Glow 931-279-4780
HOBBY
Adventure Off Road 852-5445
INSURANCE
Aarons Insurance 931-629-8065
Baker Agency 762-4550
Wall-Modrall Insurance 762-6528
JEWELRY
Dixon's Fine Jewelry 762-9979
LAWN CARE


Dustin's Lawn Care 242-4414
MEDICAL
NATURAL FOODSNature's Nuggests 762-2895
OUTDOOR
Randy's Cycle & ATV 762-2450
PARTY / SUPPLIES
PAWN
Mo's Pawn Shop 762-2529
PHARMACY
Holland's Pharmacy 931-762-2220
POOLS/ SUPPLIES
By Pass Pools 931-762-7904

REAL ESTATE
RENTAL
RESTAURANTS
SPORTING GOODS
Fox Sporting Goods 931-766-0313
STORAGE
Loretto Storage 931-853-7867

TANNING
Envy Tanning & Spa
931-762-3689
TIRES
Groucho's Tires 931-762-1707
TRAVEL
Wednesday, January 10, 2018
Skinny Leggz "Be Kind" Campaign Raises $1000 for Ingram Sowell Library

Be Kind….two simple words with huge meaning, is the name of a campaign initiated in November to raise funds for the Ingram Sowell Elementary Library by Skinny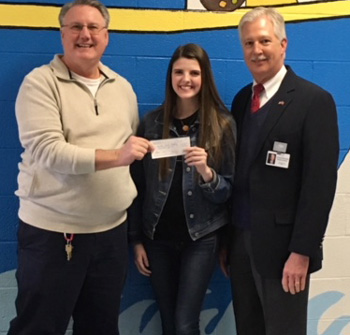 Leggz owner, Annsley Watson who is a senior at Lawrence County High School.

Skinny Leggz created a Be Kind t-shirt design that was exclusive to the ISES fundraiser and donated $5.00 of every shirt sold to the ongoing upgrade of the school's library.
On Tuesday, Annsley presented Ingram Sowell principal, Jeff Riddle with a $1,000 check that will be used to purchase books and or other library needs. At the age of 14 Annsley had scoliosis back surgery that ended her being a cheerleader and she channeled her energy into creating Skinny Leggz at the age of 15.
The name Skinny Leggz is very unique as it is a nickname given to Annsley by long time family friend, Margie Mann who would cheer for her when she played softball and it continues to be one of Annsley's favorite childhood memories.
Currently, Skinny Leggz sells to people all over the country via her website and she also has shelf space locally at Lawrenceburg Florist.
Every three months Annsley releases a collection of new designs that are inspiring and uplifting. Annsley shares, "The Be Kind campaign meant so much to me because it allowed my business to not only spread kindness in the community but to give children the opportunity to expand their imagination and creativity through reading."
Annsley's dad, Darryl Watson adds, "Annsley takes care of her business all by herself! She has always handled every aspect of Skinny Leggz from designing, ordering inventory, website, mailing of products, etc and she has learned so much as far as working with the public and the great demands on you when you are a business owner. We are very proud of her."