AUCTIONS
APPLIANCE REPAIR
Kelly Appliance & Vacuum 931-244-7200
AIR CONDITIONING
D.E. Hill & Son 762-9584
ASSISTED LIVING
AUTO REPAIR


J & G Tire Center 931-762-0078
BANKS
CONSIGNMENT
On Second Thought Consignment 931-244-7244
CINEMAS
CLINICS
Clothing
On Second Thought Consignment 931-244-7244
COMPUTER REPAIR
DAY SPA
Envy Tanning & Spa 931-762-3689

ELECTRICAL & PLUMBING
Rick's Electrical & Plumbing 931-242-5325
ELECTRONICS
Lynn Electronics 762-0401
EXCAVATING / GRADING
Newton Backhoe Service 931-242-0305
FLORIST

Lawrenceburg Florist 762-3722
McKelvey's Flowers 762-4511

FUNERAL HOMES

Pettus-Turnbo Funeral Home 762-3291
FURNITURE
Green's Furniture
Swap & Shop Center
GIFTS
GLASS REPAIR
Lawrenceburg Glass 766-1004
HARDWARE
HEALTH PRODUCTS
Salt Glow 931-279-4780
HOBBY
Adventure Off Road 852-5445
INSURANCE
Aarons Insurance 931-629-8065
Baker Agency 762-4550
Wall-Modrall Insurance 762-6528
JEWELRY
Dixon's Fine Jewelry 762-9979
LAWN CARE


Dustin's Lawn Care 242-4414
MEDICAL
NATURAL FOODSNature's Nuggests 762-2895
OUTDOOR
Randy's Cycle & ATV 762-2450
PARTY / SUPPLIES
PAWN
Mo's Pawn Shop 762-2529
PHARMACY
Holland's Pharmacy 931-762-2220
POOLS/ SUPPLIES
By Pass Pools 931-762-7904

REAL ESTATE
RENTAL
RESTAURANTS
SPORTING GOODS
Fox Sporting Goods 931-766-0313
STORAGE
Loretto Storage 931-853-7867

TANNING
Envy Tanning & Spa
931-762-3689
TIRES
Groucho's Tires 931-762-1707
TRAVEL
Tuesday, January 9, 2018
E. O. Coffman Middle School is recipient of contribution by Lawrence County Education Foundation
The band program of E. O. Coffman Middle has been the recipient of a most generous contribution by the Lawrence County Education Foundation. As a result of sixth grade students being moved to the school a great increase within the program warranted the need for more instruments.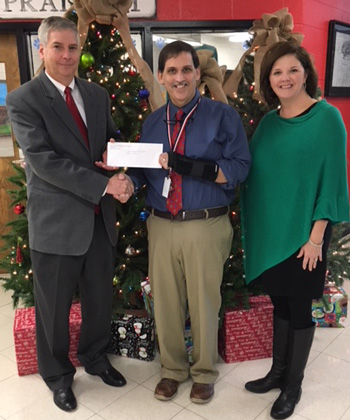 Over the years, our school district has been fortunate to have the support of the Lawrence County Education Foundation and its donors on many projects such as scholarships, mini grants, and chromebook initiative and now our music and arts program.
E. O. Coffman Band Director, Lane Toney shares, "Those moments when you are blessed by the generosity of someone giving to you is one of those selfless moments I think we enjoy. As a band director, I believe that by teaching and having my students perform for their parents, friends, and community, I am in someway sharing and giving the gift of music to my school, my students, my community, etc..
I asked Mrs. Shannon Watson, our Lawrence County Schools' Supervisor of CTE & Communications and a dear friend, to help me find grant monies to aid in the purchase of instruments for students who could not afford them and to help in the purchase other needed instruments.
Mrs. Watson helped secure dollars for the Coffman Band Program that will touch the lives of so many children coming through the band program that would otherwise not have an opportunity to participate and learn a musical skill.
She solicited the help of the Margarite Rose-Burton Foundation and the Lawrence County Education Foundation. The Rose-Burton Foundation provided a $1000.00 grant and the Education Foundation provided another $10,000.
To the men and women on those committees that decide where you give those grants, thank you for being a most generous benefactor of the Coffman Band Program and for supporting the Arts in our community.
I am also very thankful to Mrs. Linda Durham, a member of the Lawrence County Education Foundation, for presenting the Coffman Band's financial needs to the Lawrence County Education Foundation and for helping the committee to see the worthwhile benefit of being involved in music education.
Much thanks and gratitude also goes to the Lawrence County Education Foundation, for signing off on this very, very generous grant donation.
One of our main goals in Lawrence County is to increase the graduation percentages. Research and statistics show that students who are involved in the Arts (Instrumental music, Vocal music, Visual art (drawing, painting, sculpture, etc..), Dance, and Performance Art (Acting), are much more likely to graduate from high school and attend college.
70% of admissions officers of the nation's major universities say high school credit and achievement in the Arts are significant considerations for admission. Students involved in public school Arts programs score higher on the ACT and SAT tests according to information provided by the College of Entrance Examination Board.
And, according to the U.S. Department of Education, schools that have Arts programs have significantly higher graduation rates than those without Art programs (90.2 percent compared to 72.9 percent).
When leaders in our community provide financial help to something I am very passionate about, teaching students to play and love music, I am overjoyed for the resources to better educate and motivate my students.
The other educational benefits that come along with it are just icing on the cake. You can help in your community also. Get out there and "beat the bushes" for funds to aid your Arts programs!
There are so many benefits and enjoyments to be had and you can be one of those people to help like the Margarite Rose-Burton Foundation and the Lawrence County Education Foundation."